The recent launch of the first ever token pre-sale for a new cryptocurrency, MintLayer's IDO, has turned out to be huge success. That is because within one day over $15 million was staked and it remains oversubscribed as more investors have joined in since then. Launching a successful ICO before your network goes live can be difficult but due to their extensive marketing campaign they were able to raise funds quickly and easily with little competition from other projects.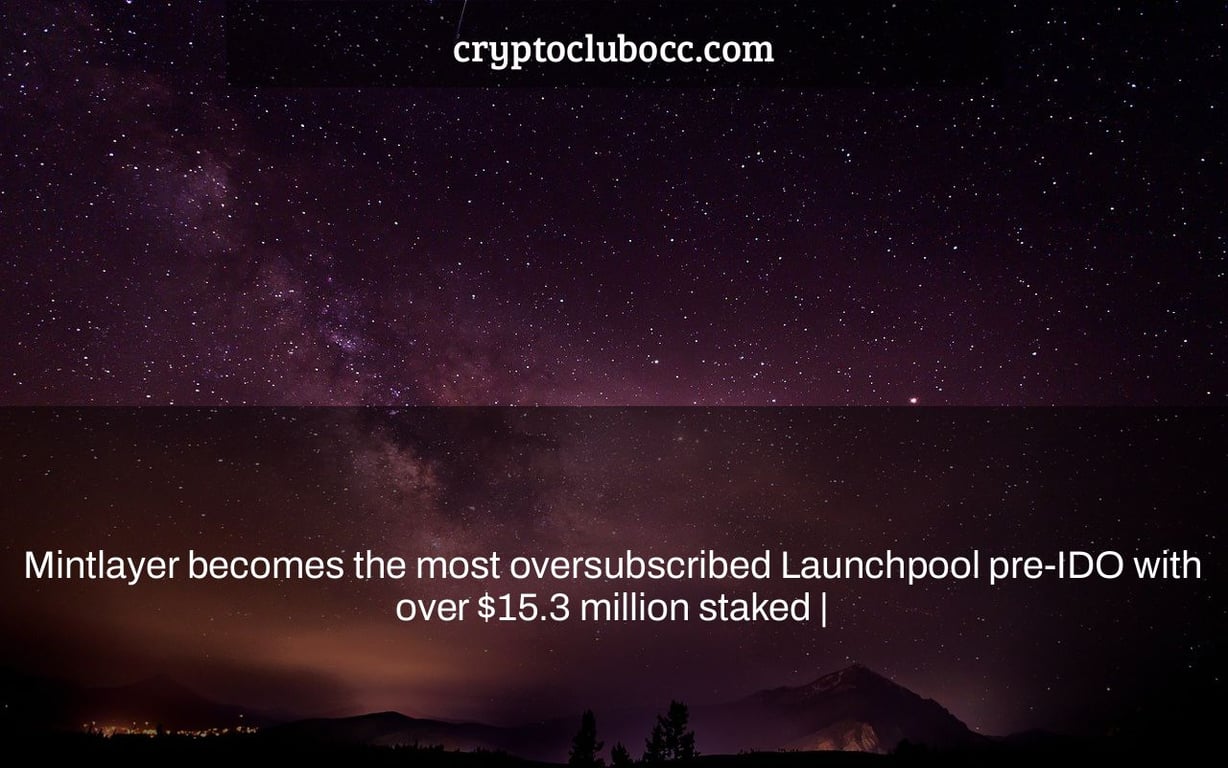 Mintlayer reported that about 40% of the entire supply of the Launchpool platform's utility token ($LPOOL) has been staked in order to acquire access to a portion of the Mintlayer allocation on offer. For access to the $600,000 allotment of Mintlayer ($MLT) presale, 3.9 million $LPOOL tokens worth $15.3 million were staked. That's a 25-to-1 oversubscription ratio, shattering Launchpool records and making this the most oversubscribed raise the platform has ever seen.
The Mintlayer protocol, which is a Bitcoin sidechain built for asset tokenization and DEX, uses the $MLT currency as its governance token. Peer-to-peer atomic swap trades using BTC are now available thanks to Mintlayer. Fees may be paid in any token released on Mintlayer, such as any stablecoin, hence no native gas token is necessary.
The Mintlayer seed round commenced in March 2021, with a goal of generating $5.2 million to support development. The community may now acquire $MLT at the same conditions as the private round using Launchpool's "Fair sale."
Funds are now being gathered via the Fair sale and a new Strategic round of private sale in order to build an ecosystem of dApps and projects on Mintlayer, including the porting of successful applications from other blockchains.
RBBLab, which employs 13 full-time developers, is in charge of the open-source development of the Mintlayer project. The business is hoping to work with accelerators and incubators to promote the next generation of Mintlayer protocol developers by establishing a "ecosystem fund" https://www.mintlayer.org/ecosystem/ for a DeFi that is completely integrated into the Bitcoin ecosystem.
"We want to build a large crypto community that recognizes the value of a DeFi switch to the Bitcoin environment." Alphabit, our main investor, and Launchpool, which may serve as an accelerator and incubator for initiatives based on our tech stack, are among our partners, according to Andreas Kohl, RBBLab's CBDO.
Launchpool brings together communities, knowledge, skills, relationships, and funding to give crypto ventures the greatest possible start, increasing their chances of success in this fast-paced and dynamic industry. The three-pool structure of Launchpool guarantees that whales do not grab all of the allocation, allowing for real decentralization, making it an excellent complement for Mintlayer.
Richard Simpson, co-founder and CEO of Launchpool, said:
"We've been watching Mintlayer for a while and have been blown away by the project's success so far." We're really thrilled to be able to give Launchpool customers on launchpool.xyz $600k in MLT allocation. We're also excited to continue to grow our cooperation in order to expand the Bitcoin DeFi ecosystem on Mintlayer."
What comes next?
Those that staked their $LPOOL tokens in Mintlayer allocation mining pools on launchpool.xyz may now pay for their allocation before the December 1st cut-off date.
Mintlayer core contributors recommend joining their Twitter or Telegram communities if you want to participate in future fundraising. Soon, a modest amount of $MLT will be offered to the public on launch.mintlayer.org, providing a second chance for those who missed the Launchpool auction. This will most likely be the last presale chance for $MLT before the general sale.
Mintlayer's Alberto De Luigi contributes a guest article.
Alberto De Luigi earned a bachelor's degree in Economics and Political Science from the University of Milan and a master's degree in Computer Science 50 from Harvard edx. He co-founded the cultural organization "Lodi Liberale" in 2013. In 2015, he registered with the Italian National Register of Insurance Intermediaries. In addition to numerous research works in Political Philosophy, he has released the book "Justice as Equality and Neutrality" (2015) and the short piece "Critical Review of Gerring and Thacker's Centripetal Theory of Democratic Governance" (2015). He worked for Brainforce, Cegeka, BTO, and Accenture as an IT consultant, servicing significant customers like Luxottica, and since 2020, he has overseen the purchase of UBI Banca by Intesa Sanpoalo, Italy's largest bank. He is the owner of albertodeluigi.com, a well-known Bitcoin blog in Italy. He has been working on the Mintlayer project since 2019.
Find out more.
Newsletter
The most relevant daily news in the worlds of crypto, DeFi, NFTs, and more are summarized here.
Gain a competitive advantage in the cryptoasset market.
As a premium Edge member, you'll get additional crypto insights and context in every story.
Analyses of the whole chain
Snapshots of prices
a little more context
For just $19 a month, you can become a member right now. Examine all of the advantages.
Watch This Video-