Binance withdrew its application for a license to operate in Singapore, citing concerns about the country's regulatory framework. This move could have significant impacts on crypto adoption and trading volume in the region going forward.
Binance withdrew its Singapore license application, and what this means for Zilliqa is unknown. The withdrawal of the application could be a sign that Singapore's laws are too strict or that Binance has run into regulatory problems in the country.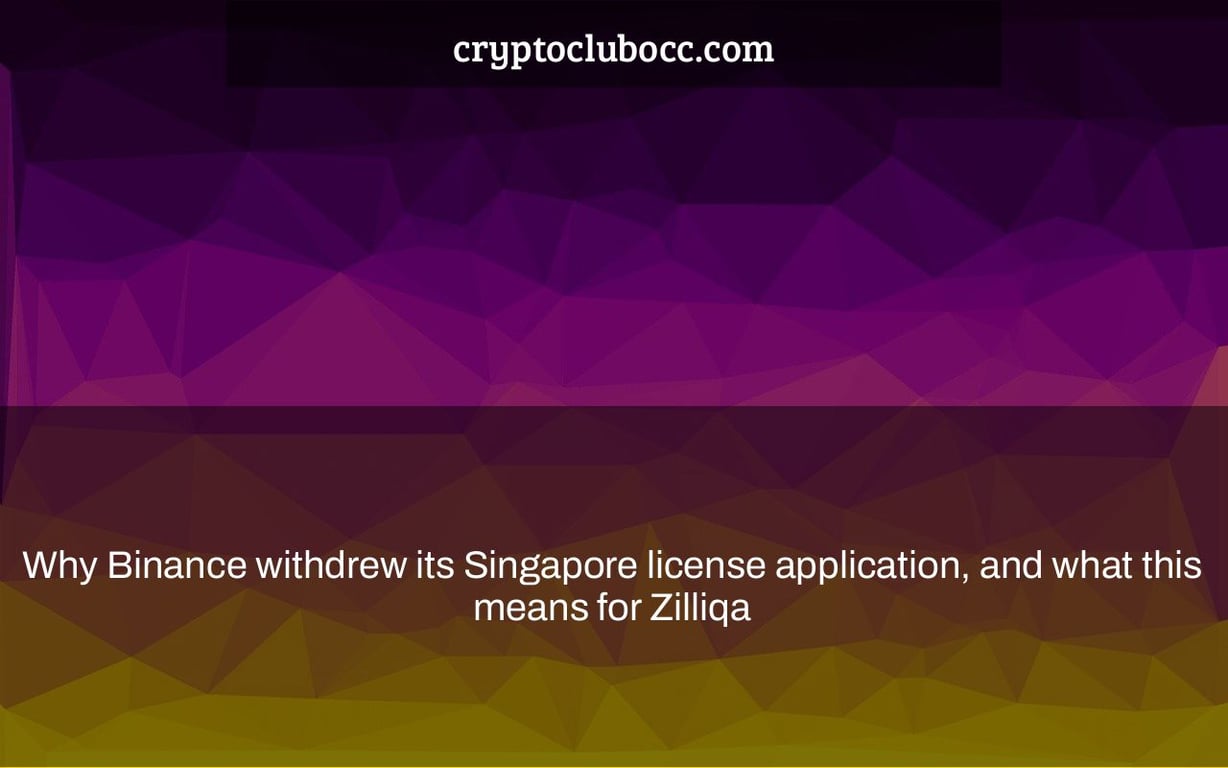 Binance CEO Changpeng Zhao (CZ) clarified his company's decision to withdraw its crypto trading authorization application from Singapore's Monetary Authority (MAS).
The problematic cryptocurrency exchange has been at battle with international authorities since the summer. As a result, Binance has had to make a number of modifications, including limiting leverage to a maximum of x20. It also stopped accepting fiat deposits from Singaporeans at the end of September.
The pace of events in Singapore has quickened lately. Binance not only withdrew its application for a crypto trading license in the autonomous island city-state, but it also declared that it will halt operations on February 13, 2022.
Binance Singapore will close at the end of the year.
Binance informed its Singaporean customers on Monday that it wants to withdraw its licensing application with the MAS and cease operations.
The statement outlined a sequence of steps to ease withdrawal from the area, starting with the platform's immediate shutdown to new users.
Existing customers were also asked to withdraw cash before the February 13 deadline, warning that failing to do so will result in an expensive withdrawal process.
The business said that it was not a hasty choice and expressed regret for the inconvenience.
"We regret any trouble this may create, and we apologize in advance for any inconvenience this may cause."
CZ describes the strategy for the future.
CZ explained the decision by stating that Binance has made a "significant investment" in the existing regulated HGX exchange. This, he believes, is a better way ahead, while also rendering Binance's own software "slightly redundant."
"Clarification. Last week, Binance made a significant investment in HGX, a licensed exchange. Our own application was rendered obsolete as a result of this expenditure. We will continue to work with our partners to help Singapore's crypto sector develop. Onwards."
According to The Straits Times, CZ's "substantial investment" equates to over a fifth of HGX's stock, or 18 percent.
HGX just received a "Recognised Market Operator" license from the Securities and Exchange Commission (MAS), and it also includes alternative assets like as wine, fine art, and real estate. HGX is also based on the Zilliqa blockchain.
Richard Teng, Binance Singapore CEO and former HGX CEO, commented on the purchase, saying that the partnership will improve goods and services for all parties involved.
"Cryptocurrency and conventional financial services are becoming more intertwined. We want to collaborate with HGX on improving the offers of blockchain-based goods and services as a result of this investment."
The Singapore dollar stablecoin XSGD has been part of the Zilliqa ecosystem since Q4 2020. And, despite the fact that Zilliqa has been stuck in a four-month decline, all eyes are now on $ZIL to see how price activity reacts to this news.
Newsletter
The most relevant daily news in the worlds of crypto, DeFi, NFTs, and more are summarized here.
Gain a competitive advantage in the cryptoasset market.
As a premium Edge member, you'll get additional crypto insights and context in every story.
Analyses of the whole chain
Snapshots of prices
a little more context
For just $19 a month, you can become a member right now. Examine all of the advantages.
Watch This Video-
Binance has withdrawn its application for a license in Singapore, and this could mean that Zilliqa will not be able to list on the exchange. The withdrawal of the application is due to a change in the law in Singapore. Reference: does binance work in usa.
Related Tags
zilliqa price
zil stock
is binance.us safe